A battery pack with spaces to charge two devices at once so they don't have to play the game of "Which device of mine will die first?" because nobody wins that game.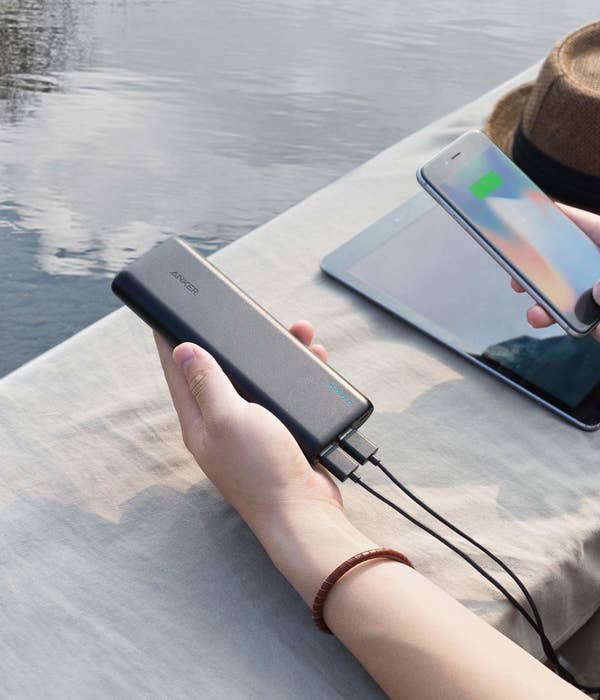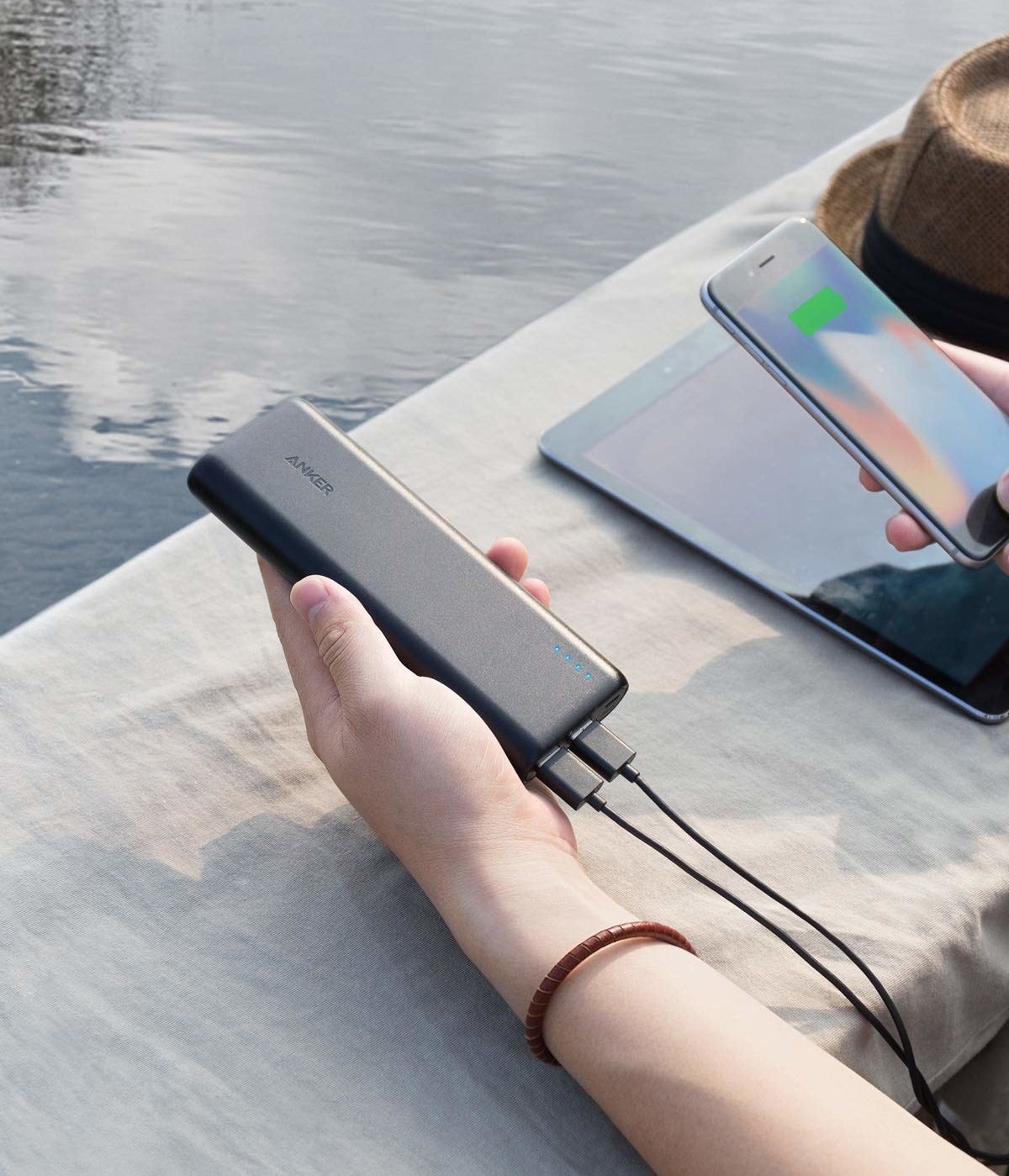 It weighs about the same as a can of soup yet will charge the iPhone 8 almost seven times, the Galaxy S8 five times, or the iPad mini 4 twice.
Promising review: "I've had the PowerCore 20100 for a couple of months now, and I love it! It is a wonderful, portable charger that even inspired my wife to pick up an Anker charger. I've charged both my wife's and my iPhone X simultaneously, was able to get a pretty good charge on an iPad Pro, charged my Apple Watch, and even my Bose QuietComfort headphones (obviously, not all at the same time, there are only two ports). The two ports are very convenient, especially when I have to carry my personal cell phone as well as a cell phone for work." —Joshua N Nichols
Get it from Amazon for $49.99+ (available in four colors).

2. A faux-fur throw blanket you really can give to anyone on your list. I mean who doesn't want a super soft and cozy blanket that's big enough to share and snuggle with their special someone (or pet)???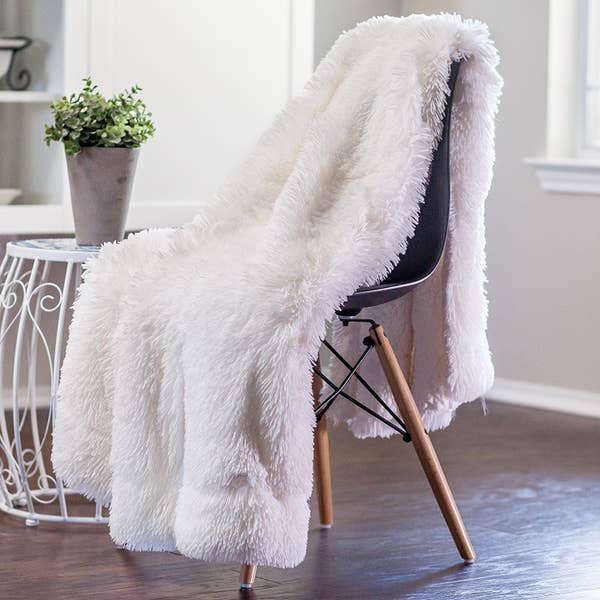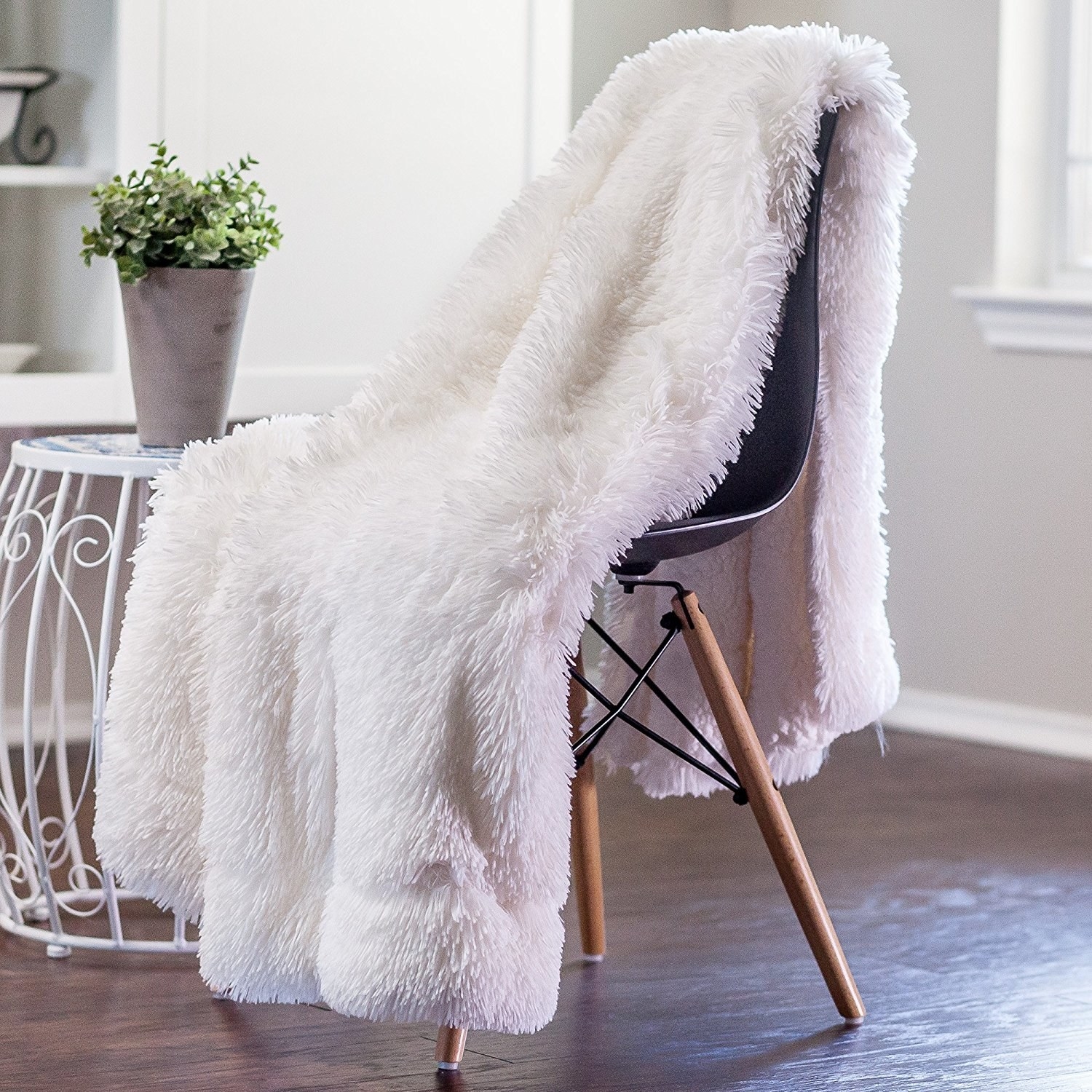 Promising review: "I have a $120 faux-fur throw, and this one is so much better! I was concerned the lining would be rough, but it is super soft. It is luxurious (better than the picture) and so soft and cuddly. It is super thick but not heavy. I accidentally ordered two and am keeping both. Love this product." —K Shopper
Get the king-size from Amazon for $59.98 (available in five sizes and 26 colors).

3. A pair of pair of wireless earbuds to ~cancel~ the noise around you so you're actually able to hear the awesome podcast you're currently obsessed with, instead of the neighbor's dog barking. These true wireless earbuds have soft silicone ear tips, so they won't fall out of their ears in the middle of a song (or even a phone call). We love a gift that's both sleek and practical.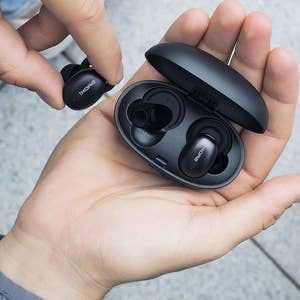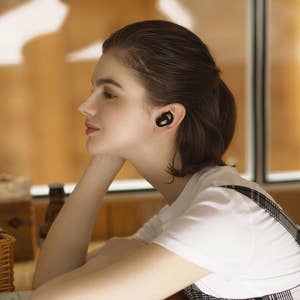 Not only does the design of the earbuds help balance bass for a natural and authentic sound, but the charging case and earbuds have a combined 24-hour battery life. The earbuds work for 6.5 hours on a single charge. You can even select a quick charge function where you get three hours of use in only 15 minutes. The earbuds also come with three additional pairs of ear tips in different sizes.
Promising review: "I am in the Esports industry, so I've tried my fair share of headphones and earbuds — and these are not only comfy, but they are also some of the best quality earbuds (let alone the fact that they are wireless) that I've ever worn/used.
The battery life is insane and on top of that, the charging case gives me a full-day security of being able to listen nonstop to music/phone calls without having to worry that they'll die. I've tested the 15-minute fast charge and it works incredible. I am beyond impressed.
The music quality is top-notch and the volume is so impressive that I couldn't even get it to full volume. I also love that I can use them ONE earbud at a time. This means I can have more comfortable listening options and more accessible phone calls.
Already planning on buying these for Christmas gifts, I would recommend to everyone." —Don Goode
Get them from Amazon for $79.99+ (available in three colors).
4. A pair of Apple AirPod Pros designed with active noise cancellation, transparency mode for hearing the world around you, and three sizes of soft, tapered silicone tips for a perfect fit — they're also sweat- and water-resistant and have a wireless charging case that has more than 24 hours of battery life. Basically they're really cool and if you like anyone enough to throw down this kind of cash…well, lucky them.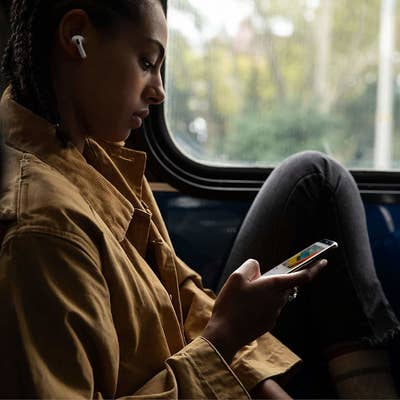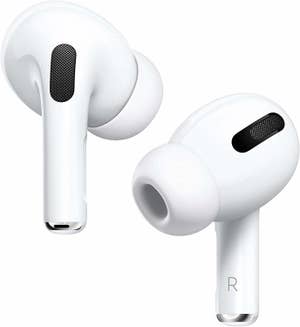 Promising review: "Apple hit a home run with these, I wanted the original AirPods but couldn't get them to fit in my ear. I have tried other true wireless earbuds and never liked the look or fit of them. With the AirPods Pro, Apple has answered my prayers, and they're even better than I could have imagined. The sound cancellation is LEGIT. The sound quality is very good for me. I'm by no means an audiophile but I'm a little picky as far as this goes and I'm more than pleased. The ability to switch from noise-canceling to transparency mode is awesome as well." —TCC
Get them from Amazon for $199.99. You can also check out the classic Airpods and the Airpods with the wireless charging case. While you're at it take a look at this silicone case for both the classic and pro cases.
5. An ion-generating Revlon one-step airbrush capable of drying, straightening, and giving your hair the volume you dream of with just one tool.

Promising review: "I have 3A/3B curls (I included a pic.) I watched A LOT of reviews on YouTube for this product before I committed to buying it because that's always smart to do when you don't want to waste money. But OMG my results came out better than all the reviews I saw with the girls that had similar hair to mine! The trick is to keep rolling it a few times before you let the strand go. Just like the stylists do when they blow-dry your hair at salons with the large rolling brush. I was able to straighten my hair in 45 minutes on my first time and I could probably do it in less time next time because now I know how to use it. I was worried about my roots not getting straightened like in some of the reviews I saw but nope my roots came out perfect! The trick to that is to hold it at the roots for a few seconds. After a strand is straight and completely dry I'll switch it to cool and pass it through another time. If you want your ends straight and not flipped you'll need a flat iron but I prefer them flipped anyways. Be careful not to burn your hands by accidentally touching the blower. Also, your wrist/hands will get tired but it's still worth it! LOL! Oh, I've also somehow managed to turn the switch accidentally a few times while using it. My hair is amazingly soft and super shiny. The biggest pro for me is that it'll only take me 10 minutes to freshen my hair every day after that first day! Best styling product ever!" —BIANCA
Get it from Amazon for $29.39+ (available in five styles).

6. An ergonomic and compact Shiatsu back and neck massager to help relieve the pain they probably developed from hosting their entire family this holiday season.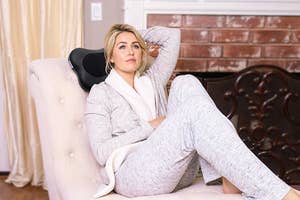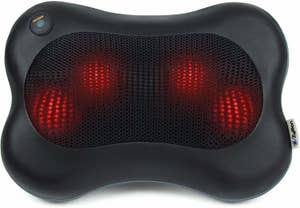 Promising review: "I bought one of these for a Christmas gift, everyone had to try it out, and everyone wanted it! I bought another almost immediately for someone who had raved about it at the Christmas Party and was going through a stressful spot. She was thrilled with the gift and said it was perfect for the circumstances. Much better than a casserole or vase of flowers. Both of these have been loved and greatly enjoyed! This is a nice for targeted areas (lower back, shoulders, neck, glutes, legs, etc.) and I love that it has a heated and unheated option. Also love that it shuts itself down after 20 minutes, a good safety feature. I will say that the massage function is very firm, which is great for some areas and not so great for bonier spots — like ankles, wrists. This pillow is very firm, not really a pillow at all, which keeps the massaging area in place. It is comfortable to recline on, or prop a leg up on, but it's more for support than cushioning." —J. D. Robinson
Get it from Amazon for $54.95.

7. Revlon One-Step Hair Dryer and Volumizer

While a high-end hair dryer is a thoughtful gift, most beauty lovers (or anyone with long hair) will be excited to receive the Revlon One-Step Hair Dryer and Volumizer. This cult-favorite hair dryer brush has more than 75,000 reviews and a 4.4-star rating on Amazon. It's that popular. Our beauty expert tried it out to see if it lives up to the hype, and, boy, it does. Not only did it dry her wavy hair straight with some voluminous flips, but it did it in just 30 minutes. Plus, it only costs less than $50—a fraction of an expensive luxury hair dryer.
Get the Revlon One-Step Hair Dryer and Volumizer at Amazon for $29.39

8. Kindle Paperwhite

Even if your giftee prefers the feel of a "real" book, they'll still appreciate an e-reader to easily access books while stuck at home. The Kindle Paperwhite is still the best e-reader we've ever tested and makes an amazing gift, especially for the bookworm in your life. It gives them an seemingly unlimited library at their fingertips and its waterproof, so they can read in the bathtub without fear.
Get the Kindle Paperwhite from Amazon for $149.99

9. Anker Soundcore Bluetooth Speaker

If your special someone loves to bring the jams beach or poolside, t  hen what they really need is a waterproof, high-quality Bluetooth speaker. When we tested the best affordable portable speakers for our roundups, we found the Anker Soundcore was offered great sound and playtime for a reasonable price. It's also available in a wide color selection, for some extra personalization for your giftee.
Get the Anker Soundcore Bluetooth Speaker at Amazon for $25.99

10. Fitbit Charge 4

Fitness trackers are not slowing down in popularity and Fitbit just updated it's popular Charge 3 and made it even better with a brighter screen and GPS-capabilities. It's so good that we crowned it our new favorite fitness tracker, dethroning the Charge 3. It'd make a great gift for anyone who could use a little extra motivation and is obsessed with crushing new fitness goals.
Get the Fitbit Charge 4 at Amazon for $148.70

11. A 100% cotton weighted blanket designed to offer the gentle sensation of being held, which encourages a deep, healthy, restful sleep.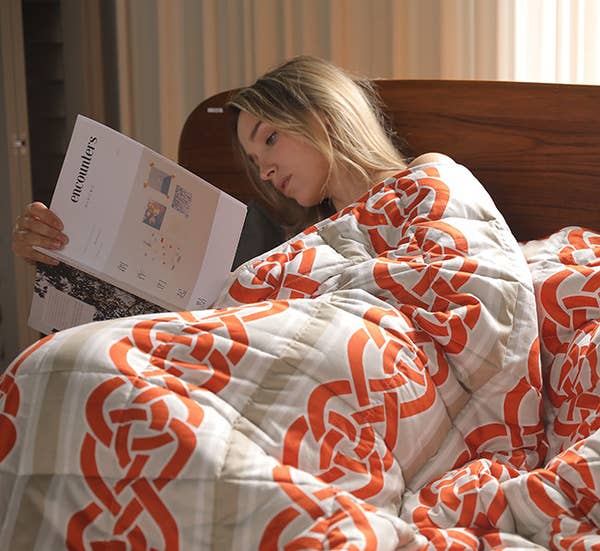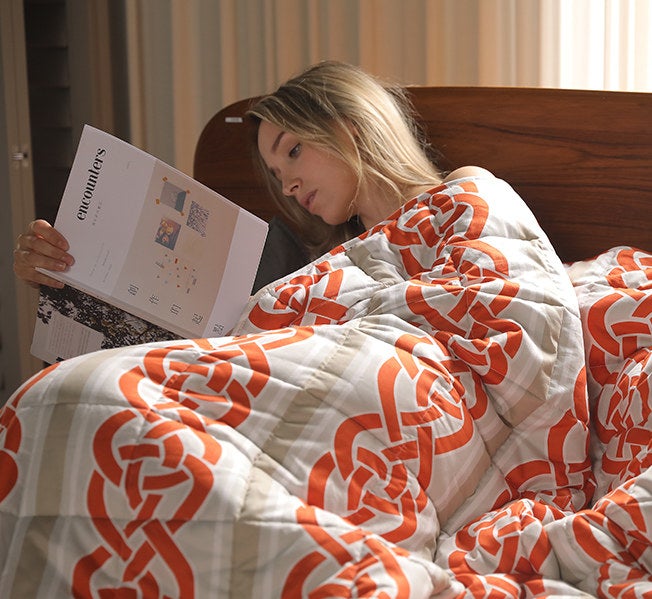 Promising review: "I'd read the great reviews for this and was hopeful it would help increase sleep time and comfort, and wow! Before I received this weighted blanket, according to my Fitbit, I was averaging about four and a half hours of sleep per night due to pain. My first night with this blanket and I slept over seven hours!! Same for my second night. This is so comfortable and comforting. I'm recommending this to everyone I know!" —Jamie Eubanks
Get it from Amazon for $56.04+ (available in 14 sizes and 35 colors).

12. A programmable Instant Pot that can act as a pressure cooker, slow cooker, rice cooker, steamer, sauté, yogurt maker, and food warmer — helping them prepare a delicious dinner all those holiday guests will love.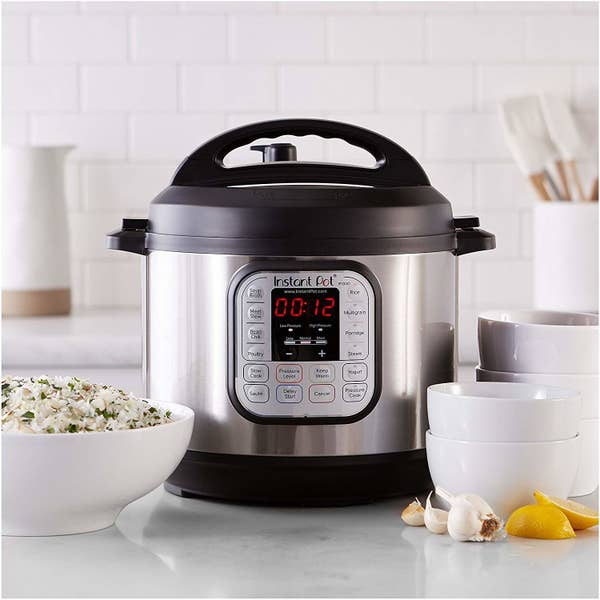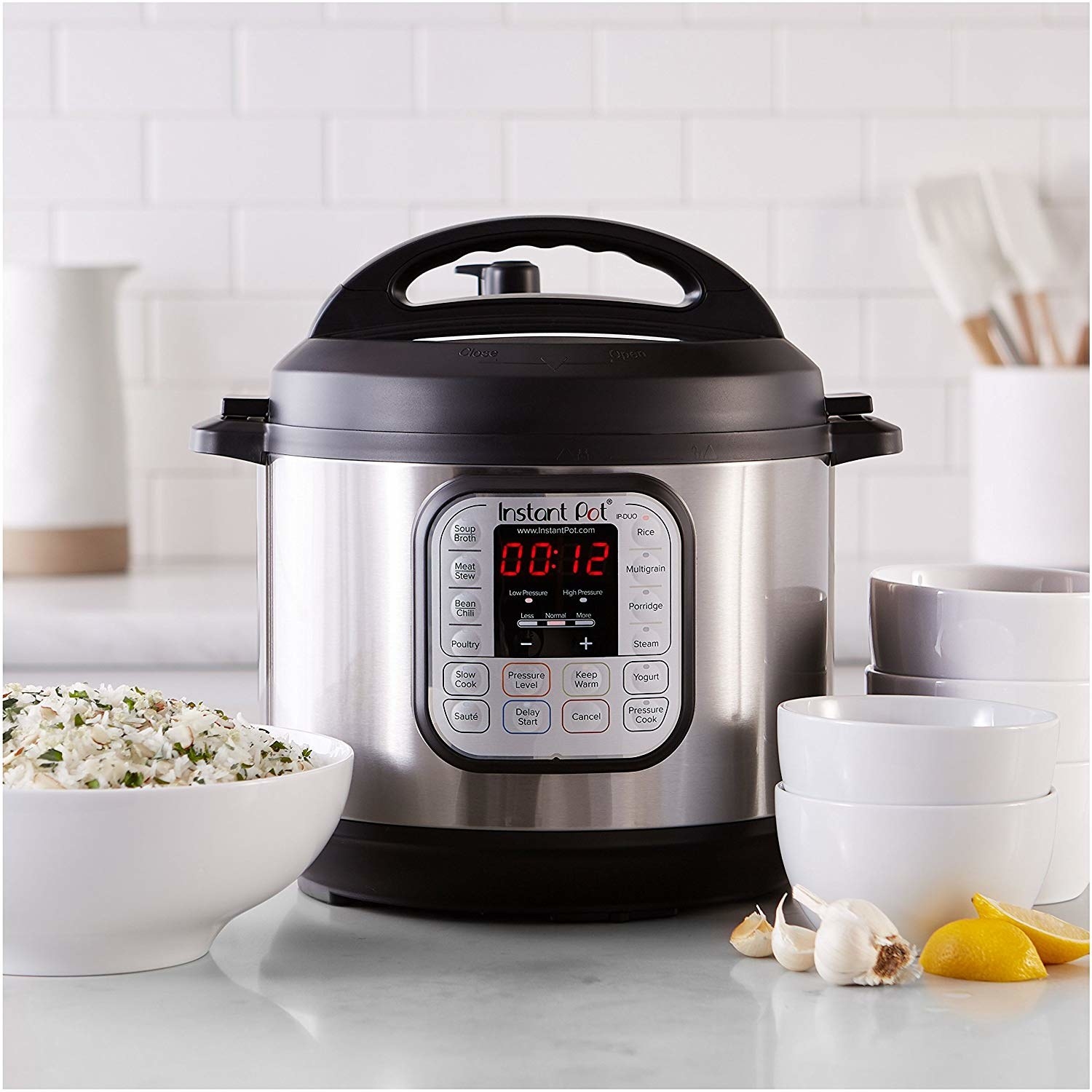 With nearly five stars and 22,000 reviews on Amazon, the Instant Pot's kinda high price is easily justifiable. People everywhere swear by the convenience, delicious recipes, and all-around awesomeness of this 7-in-1 pot. It's so popular, Williams-Sonoma offered classes where they shared their favorite tips, tricks, and recipes. (They even share how to make cheesecake in one — CHEESECAKE!!!!)
Read our full review of the Instant Pot here, beginners tips here, recipes here, here, and vegetarian recipes here.
Get it from Amazon for $59.99+ (available in two sizes).